An exclusive excerpt AND short story, plus new music and reading recommendations
What a different world we are now in, since my last newsletter update. I hope you are all doing well, staying safe, hanging in there. This pandemic has taken a toll on many of us, and it weighs heavily on me.
I have to apologize for pushing back the release date of Tales of Ownership. This story and its characters — I want to get this fantasy world right and do justice by it. I've been editing and re-editing, adding things on (there are four or five related bonus stories at the end that didn't fit the narrative but I didn't want to leave out; in fact, that's one of the stories I'm sharing exclusively in this newsletter) — all in service of making it better, I promise. At this time, I don't have a specific publication date other than Summer 2020.
You can find other short stories I've written since my last update on Bdsmlr, and since we are staying indoors, I was inspired by Trent Evans to also open up my inbox to prompt requests. I can't promise a story, but I can try!
---
What I'm working on:
A Cole/Laura/Steve novel. Three college friends involved in a MMf relationship. I love writing about these three. You can read their first appearance here.

Work continues on Diary of a Band Slave! I'm sharing an excerpt in this newsletter. I enjoy making use of the "diary/journal" entry structure. The diary that the titular slave uses is also the journal her Dominant requires her to use for various assignments. Suffice it to say, I'm having fun experimenting with this format.

If you read Training Mrs. Olliver, you were introduced to a Dominant who visited our husband and wife protagonists. His name was Mark Shannon, and there were a few references to a previous submissive he had. Mark has very particular kinks, and I'm exploring them.
---
Untitled bonus story from Tales of Ownership (MF/f)
"Bebe, this is Therese Desny. She is to be your minder."
"Oh?" Bebe asked nervously, her eyes bouncing between Walter and the strange woman.
The woman was sitting in a very arresting way; she seemed to have a very proper carriage and posture and at the same time she was completely at ease, her slim legs pressed together, one ankle tucked behind the other. She was sipping delicately at a fragrant cup of coffee, and she lowered the cup without any rattling of the saucer, never taking her eyes off Bebe.
"Open your dress and give it to me, Bebe," Walter said casually.
Her eyes darted to the woman again, but her fingers went instantly to the front of her dress, darting down the neat line of buttons and undoing them with stiff fingers. Underneath the chic black dress, she was wearing a pearl-colored shelf bra, edged in a stiff pink lace that rasped her nipples and areola, irritating the tender skin until she felt swollen and itchy. Like the rest of her wardrobe, it was specially made for her. Walter had ordered an extensive collection of brassieres for his chienne that were purposely modified. Some were merely a flimsy contraption of straps that outlined her assets. Others covered the pert globes but had small openings for her to pull her nipples through; Walter always had her pair these bras with fitted tops or dresses so her puffy nipples could be visible. Then there were the bras made to hoist her breasts high, as if they were fruit offered on a platter, and every step she took made them jiggle. Of course he was partial to the punishment bras, of which he counted this one—bras that put his chienne to some discomfort, like the one with cups that were studded with tacks that pressed into but didn't break the soft skin. Oh, how Bebe detested being made to wear that tack bra. He always put that one on her himself, securing the hooks to tighten the band around her.
So the lace edging really wasn't the worst of the lot—it was practically gentle compared to the tack bra—but Walter made up for it by having given her a pair of silver clamps and watched intently as she applied its biting jaws to her tender buds, then tightened the pressure on them. He loved making her put on the clamps. He punished her if she didn't do it right, didn't do it as if he were doing it himself, and after the first few punishments, she now often overcompensated and treated her nipples even more cruelly than he might have. Making Bebe clamp her own tits, the whole process of it—where she kept looking at him hopefully, trying to see if it was enough yet—always got him so hard that he would have to take one of her holes right after. Usually not her mouth, because he liked to put her on all fours and have her tits swinging below her as he fucked her body, knowing how much her nipples were throbbing in the cold steel.
Her thong matched the bra, offering scant covering. More of that stiff lace formed the panel that rubbed against her clit constantly, and between her legs was just a thin bit of fabric that showed a rather obvious spot of dampness.
Bebe shrugged the dress off and handed it to her Owner, avoiding Therese's eyes. Flags of color flew brightly on her cheeks.
"You know you must be monitored," Walter said. "Therese will be here to do that for me while I'm at work. You get so needy, and I've caught you playing with yourself several times now. I'll feel much better knowing that Therese is taking good care of my chienne."
"You may call me Madam," Therese Desny said, her calm gray eyes studying Bebe's naked form, lingering on the nipples squashed between the silver clamps.
"Bonjour, Madam," Bebe said automatically, still unable to meet the woman's eyes.
Therese Desny's eyes flicked to meet Walter's amused gaze. "Nice, humble demeanor. Docile chienne, is she?"
Walter laughed. "You wouldn't recognize the girl she was before. A creature of her whims. No discipline whatsoever, ruled completely by what her crowd of friends was doing and her own appetites."
"And now you've been controlling her...appetites, as you say?"
"Oui." Walter fondled Bebe's breasts openly, capturing a clamp and tugging on it.
"Shoulders back, Bebe," Therese Desny said immediately. "You should always present your breasts, especially when your Owner wishes to play with them."
Bebe blushed, but she obeyed immediately. Something warned her that this woman would not patiently wait for her orders to be followed.
Before her arrival, Therese and Walter had enjoyed a very frank conversation about his chienne. They agreed that it was important for Walter to establish the relationship between Therese and Bebe through several meetings. Once she was accustomed to submitting to the both of them, she would see that her submission to Therese was merely an extension of her submission to Walter.
"I keep track of her orgasms. How many times, how long, the source of stimulation," Walter was saying. "I believe Bebe has gone several days without that particular pleasure at this point."
"Excellent," Therese said, impressed. "I would like to see those records, if I may."
"Certainly, if you think it would be helpful."
"Come here, Bebe," Therese said. "I'd like you to sit on my lap so I can have a closer look at your pretty clamps."
---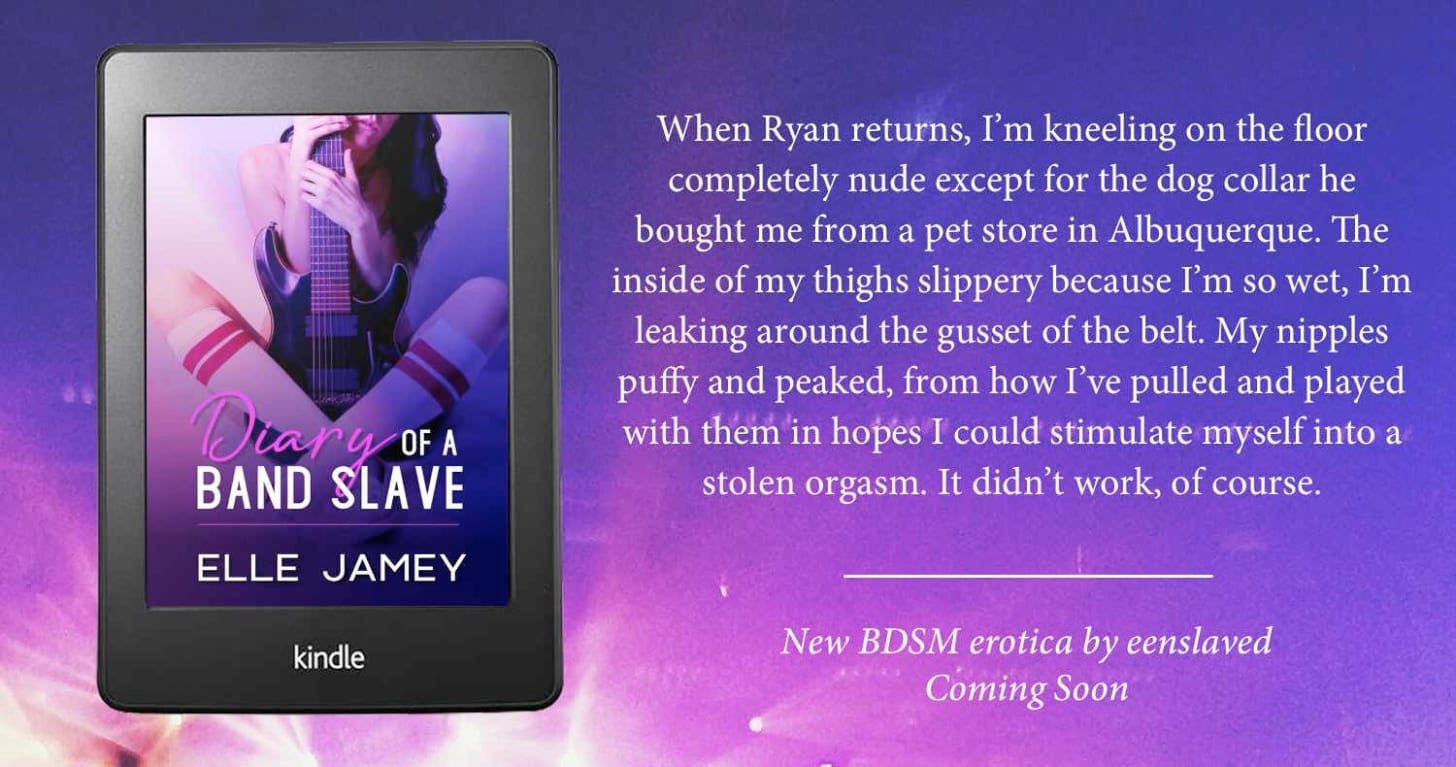 Excerpt from Diary of a Band Slave (M/f, objectification)
We're halfway through this godforsaken tour, and I've lost count of how many ruined orgasms Ryan's dealt out to me. How many times he's driven me to the pinnacle of pleasure and held me there, while I'm screaming and sobbing and sweating, until my whole life before this moment and after has been wiped clean.
It's the band's most successful tour yet. They're playing all sold-out stadiums, critics are raving, media requests and other gigs are pouring in. Ryan says it's because I'm his muse, and the state I'm in is inspiring.
Yeah. Inspiring. Inspiring, for him to see how desperate I can get. Because even though it's a hopeless situation, even though I know Ryan's ironclad rule—no orgasms for Jessa when we're on tour—I still...can't help...hoping. Hoping that my Master will take pity on me. Wishing, with every fiber of my being, that he'll feel like being entertained by how he can make me explode. Begging for mercy, begging for a climax that will never come. Not until the band has officially wrapped.
I never knew how low I'd sink just for an orgasm before Ryan took me on tour with him the first time.
The guys in the band know about me, of course. Ryan doesn't hide anything from his bandmates. He shares everything with his brothers, including his sex slave. Maybe especially his sex slave.
It's so degrading, to be passed around between the four of them. If only the fans knew how deviant they really are. They might guess it about Nash, but they'd never believe Ryan Kane, the golden boy with the raspy, soul-rending voice, had a sex slave and that he spent most of his free time tying her up and torturing her until she broken down begging, every single time.
One time, Ryan was in the middle of fucking me with a massive dildo the size of a donkey's dick, when inspiration struck. He started writing the lyrics to "Pretty Little Tease" on my body. It just went platinum last month for selling over two million units. In these days when streaming music platforms reign supreme, that's huge. They even released a limited series on vinyl, and it sold out in three days.
That's all great and all, but every time I hear that song, I remember wearing the oppressive leather hood with only a small slit cut out under my nose, blindfolded and gagged beneath its smooth face. I remember being tied outstretched to the bed while Ryan drilled the dildo into me, bumping the head of the toy against my cervix while it competed for space with the inflatable plug bottomed out in my ass. I remember feeling so paper-thin, with the clamps biting into my nipples, living for the crests when Ryan tongued my clit, only to come crashing back down when he screwed the dildo deeper into my cunt. I remember feeling shredded, when he left the toy stuck inside me, then the acrid scent of permanent marker, the tickling feelings as the felt tip scratched across my skin. Over my breasts, down my torso, over my pussy. His lyrics marched up and down the inside of my thighs, traversed every part of my bareness, and I wore them on my body for two weeks before they finally rubbed off.
Ryan said he thought about tattooing them on me. He still talks about doing that. He's joking about it, I think. He likes using my body as a blank canvas too much to permanently mark me with someone else's ink and handiwork.
Every time I hear that opening guitar riff for "Pretty Little Tease," my breath shortens and I get wet. Can't help myself. The moment of its creation is so…visceral to me.
Does anything good ever happen to women who are immortalized in songs?
All I know is Ryan gave me a luxurious velvet box with a silver anklet inside to celebrate the song's chart-topping success. It's really a cuff. The outside is stamped with PROPERTY OF RYAN KANE. Inside the band, the word MUSE is engraved in an elegant script—sometimes I think I dreamed it, because I only saw it that one time, when I took it out of the box and held it in the palm of my hand to the light, before I put the anklet on and held it in place while Ryan soldered it together. His dad used to be an electronics technician and jewelry designer on the side, so he knew how to do it—how to fuse the metal together so it's an unbroken fetter I can never take off.
Did I actually see the word Muse on this manacle? I wonder about this a lot. I wonder if it's imprinted on my ankle beneath the cuff.
Ryan says I'll get a matching ankle-cuff when their next song goes platinum. I'll have to take a good look at the inside of this one before it goes on.
---
What I'm listening to: "Wicked Games" by Ramin Djawadi, a moody orchestral cover of the song by The Weeknd. It played in the recent Westworld episode, and I am hooked on it. I've also listened to "Teatime" by Warmmilk, audio erotica. This is a short little delightful treat, and the author narrates it in the perfect "Alice" voice.
What I'm reading: